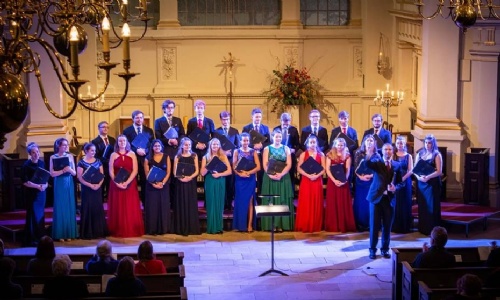 To mark Hubert Parry's centenary, we prepared for performances of his Songs of Farewell, as well as Mozart's famous Requiem.
The first 2 months of the Autumn term have kept the Chapel Choir busy and active, both on campus and in London. Most recently, we travelled to St. Bartholomew-the-Great in London to sing Mozart's Requiem for All Souls' Day. It was a moving performance of a very well-loved and familiar piece to many in the choir, and it was also lovely to be able to travel off campus and experience performing in a different venue!
This past weekend kept all of us up to our ears in some truly wonderful music with two very different concerts. On Friday, we travelled to St. Martin-in-the-Fields to perform a programme featuring the works of Sir C.H.H. Parry, to mark the centenary of his death. While in London, we had the opportunity between rehearsal and concert to explore central London a little - being from the United States, I had never seen that part of the city before, so a few of my friends took me around and showed me some of their favourite parts, including Trafalgar Square and Buckingham Palace! We speed-walked back to the church just in time for the concert, which was truly a pleasure and a privilege to sing.

The following day had us equally busy in preparation for that evening's concert in celebration of St. Cecilia, the patron saint of music. We performed alongside the Brandenburg Baroque Soloists in a program featuring two works by J.S. Bach, a Handel organ concerto, and Vivaldi's Gloria. Following the concert, the 2nd and 3rd years were invited to a banquet dinner with some of the patrons of the choir, during which we performed various selections from throughout the term between courses. It's been great fun to be part of such an active, enthusiastic, and talented group of musicians, and I look forward to moving into the Advent and Christmas season with them!
Clara Swartzentruber, Soprano, Visiting Music Student