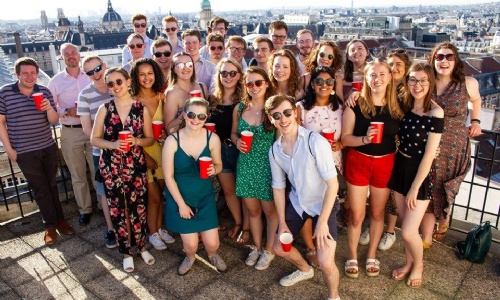 Ben Richards provides a view of a tour to Paris to record a brand-new album...
28th June
I begin the tour diary as a solo traveller. Due to me living in rural Wales, rather than take the eight-hour bus journey like everyone else, the choir covered my expenses to fly from Cardiff. Whilst I was rather smug about this, those on the bus will be pleased to know that my flight was delayed by about two hours, and Cardiff airport is hardly brimming with things to do. As a result, a lovely phone conversation with Peter Norris helped to pass the time. He asked if there had been any choir drama recently – I said no but assured him that we would quickly rectify that.
Paris is already annoying me, with no clear system for standing/walking on the escalator. However, all was forgiven as awaiting me in arrivals was a glimmering French M&S, a beacon of hope in this strange land.
Upon leaving Gentilly Station I spot the choir Scouser trying to vault the ticket barrier, and so once again I was reunited with my friends. We take a short stroll to the hostel, and upon checking-in, we realise that this is a rather funky place for edgy people, so only some of us felt at home.
29th June
Today was our touristy day, and so for once I was awake before midday. James, Ellie, Alfie, Libby, Luke and I headed on the Metro to the Louvre and walked from there through the Place de la Concorde to the Champs Elysees. Today was the hottest day of the trip, with temperatures well in excess of 30 degrees Celsius, and the wide avenues of this part of Paris offer very little shade. We sit under some trees and decide where to eat and are greeted by the sound of approximately eighty ageing Americans singing Don't Stop Believing on a bandstand. Americans in Paris… Or has that been done before?
Anyway, I digress. We crossed the Seine and after deliberating many menus (including one near the Louvre, clearly a tourist trap, where we asked if they had a toilet and the waiter simply stormed off), we accepted that lunch was going to be expensive and sat down at a Brasserie on a corner. Anyway, afterwards we paid up, stopped off at a pharmacy and then headed towards the Eiffel Tower.
We stopped off at a Franprix, gathered some snacks (including my first Milka in ages, which sadly reduced to mush in the heat) then lounged in the shade of the Eiffel Tower. As beautiful and stunning a structure it is, how soul-destroying it is to see the perimeter venues that have been installed in the wake of the terrorism that has ravaged the country and indeed the city. Anyway, the sight of children carelessly running through water sprinklers in the searing heat made one forget about all the pain this city had seen and once our time came, we headed off to the American Cathedral for our evening practice.
The cathedral is suitably beautiful; however, it is lacking any real acoustic and we caught the organ at its worst point in the heat. Still, the chamades at the West End were impressive, even though we never used them in the service.
Rehearsal finished, we went looking for dinner. We headed towards the Champs Elysees to a creperie, passing all the big designer shops along the way. Eventually we decided on a rather lovely corner restaurant, where Luke joined us for steak and wine under €20, where I managed to blot my panama hat with red wine. Anyway, we went and got some Häagen-Dazs and all was okay. Luke and I co-ordinated some middle of the road pics of the Arc de Triomphe and the Place de la Concorde, which came our rather well, and then we headed back to the hostel for an early night.
30th June
We're up early for Eucharist, and despite a million differing opinions on which metro route to take, we all arrive at the cathedral before Rupert. Eucharist runs smoothly, except for one moment when the front row heard the organ improvisation and started moving up to receive Communion before realising that we were yet to even sing the Sanctus and Benedictus, so we were rather premature. As a result, we performed a neat little circuit back to our pews, accompanied by a wry smile from the dean at the altar.
Service done, we finally got around to trying the electric scooters for hire. Despite being easy to use, they were rather inconveniently placed, and it took an age for everyone in our group to get them. Eventually, after Ellie, James and I had spent a great deal of time being angry, we were joined by Libby and Alfie and scooted our way to Notre Dame d'Auteuil. What a lovely ride it was, and a fab way to see the city.
We headed into the church and boy was it muggy. This is the first church I've been to in the summer which was noticeably stuffier than the weather outside. Anyway, no matter, we were here to record some sumptuous music, so we had to grin and bear it!
In the dinner break we nearly headed to a restaurant called Le Mirabeans at Clara's request, which we duly followed to excitement before being informed that their kitchen was closed. No matter, Franprix came to the rescue, and we bought ham and cheese to make sandwiches. I headed to brilliant boulangerie behind the church to buy un baguette traditionale, sil vous plait. Sitting in the square, I made baguettes just as my mother did when we were on holiday when we were kids, an experience anyone who's gone half-board will understand, I'm sure.
Clara dragged me back to the Pattisserie with the promise of food, a promise one should never refuse. This was apt, given that she had drunk most of my juice and coke, and eaten a fair bit of my baguette (a trend that would carry on on throughout the trip).
The recording sessions themselves were fairly uneventful, but in that late-night session we covered the Castagne Mass, the Ravel and the Hymn a la Vierge, as well as the echo 'celeste' parts for the Villette Mass, recorded exclusively by cantoris, the natural and better choice*.
I shared a late-night Uber back with Celia, Emily and Jon, which initially was difficult as the driver (who spoke as much English as I can speak French got annoyed that we hadn't specified how many passengers we were going to be. Thankfully, we had Celia, a fluent 'frog' herself, and what a delight it was to heat her speak to our driver without a clue what was going on (except when she told him I was from Wales). With UK-French relations saved from total collapse, we arrived back at the Jo&Joe hostel and headed for bed.
*Editor's note: these are not views held by the choir or the editor herself, simply the original author of this diary, you guessed it, a cantoris bass.
1st July
Recording day begins with yet another metro ride to d'Auteuil and a gorgeous Viennoise au chocolat from the patisserie. This day is rather uneventful as a whole, which probably means I'll forget something important, but basically the bult of the day is taken up recording. A group of us stood on the pavement outside the church listening to Sarah Fox warm up. When she joined us for the evening session, it was pure bliss. When she sang the Benedictus, my legs tingled, and my tear-ducts were filling rapidly. Equally, Sam went weak at the knees and had to take a moment.
Anyway, I digress. With recording done, Sam, Robin, Chris, Clara and I decided to scoot the forty minutes or so back to the hostel which is rather scarier on the road where one shares the cycle lane with the buses. We arrive back, head to a dodgy and tiny shop to buy wine and head back to the girl's terrace for an evening of drinking and jollity.
2nd July
The final day of recording arrives, with just the Castagnet Veni Sancte Spiritus and a spot of patching left. Time for one last delicious Viennoise au Chocolate at our lovely little patisserie. In the church, we 'warm-up' with off-copy editions of Ben Parry's My Heart is in the Highlands* and Jingle Bells, fitting for July, I know. The final recording goes well and we wrap by 2.30pm. What a fabulous disc this will be, recorded at the hottest and best recording venue I've ever had the pleasure of working at!
We take Alex's advice and head for lunch at Fetiche, an amusingly named café with gorgeous red velvet booths and a sumptuous steak on the menu.
Work over, we head to Saint Suplice, and dear God, what a breath-taking building. To think that this is merely a church and not a cathedral is remarkable. What takes ones' breath away more than anything else is the gorgeous Cavaille-Coll Grand Orgue, the Organ Widor played as titular organist and who was followed by Dupré and now Daniel Roth. Meg was nearly in tears at the sight of this majestic space – to think that devotion to God inspired so many people to build this all-consuming space is both maddening and humbling.
After watching an adorable French boy try (in vain) to summon his dog, and we watch one pigeon pursue another who was not having any of it in the square outside the church, we take the metro to Notre-Dame, to see the damage with our own eyes. It was quite a difficult sight, and the atmosphere around the cathedral was very eerie, People weren't quite sure how to behave, as if walking through a cemetery for the first time. Hopefully we can visit again, when the building is back in its original, glorious form.
Anyway, with time not on our side, we paid up and headed to Frederic's flat for an unforgettable experience. One thing I neglected to mention about Frederic is that he was taught by Marie-Madeline Duruflé, as in, Maurice Duruflé's wife. When they died, they left him their flat in their will, and this is no ordinary flat… this was an M&S flat… I jest, as I was saying, this is no ordinary flat…
Duruflé's apartment is on the 8th floor, with a terrace not too much smaller than the flat itself. Up here, with the Pantheon behind, is the most perfect view of Paris, with every landmark perfectly placed in the landscape. Immediately, one can see all the locations we'd visited, with Saint-Suplice very visible, as was Saint-Eustache, the Sacre-Coeur, The Louvre, Arc de Triomphe and grand Arc de la defense. The Eiffel Tower dominates the scene, and in a cruel twist of fate, Frederic had one of the clearest views of Notre-Dame, which, on the night it was ablaze must have been a truly sorry sight.
Duruflé's apartment, with a bell-sign reading 'Blanc Duruflé' is delightfully cluttered. The walls full of picture frames and the cupboards stashed with manuscripts. In the main room, as if the place wasn't small enough already, Duruflé had installed a three-manual practice pipe organ. Frederic gave us an impromptu improvisation, featuring both La Marseillaise and God Save the Queen, which was overwhelming given how surreal it was to hear our own national anthem played on Duruflé's organ.
After this, we headed back outside, where Rupert gave a heartfelt and rather emotional speech. His gushing thanks to Liam was so lovely to hear, and I think there were a few tears behind his sunglasses.
The most special moment came after a few false starts, when we all sang Duruflé's Ubi Caritas on the balcony, after which Frederic informed us that Duruflé improvised that motet and asked "mother" to transcribe what he was playing. It truly was a unique experience that we'll never get again. A few of the chaps even managed a look at the first signed edition of Duruflé's Requiem, so for better or for worse they will never wash their hands again.
After such an unforgettable experience, we headed to L'Escaramouche for a delicious meal. We got drunk, we celebrated friendships, and sang too much. The leavers and Andy made some rather lovely heartfelt speeches, and Frederic relayed a tale from Madame Duruflé about two sisters and priest – you had to be there…
3rd July
And so, we come to the end of this fabulous tour, with a travel day for all, and it's time to sum it all up. In truth, I haven't had this much fun away with the choir since the USA. The music-making has been top class, and Paris has been charming as ever to rediscover after so many years away. However, the company is what makes these trips special, and I can honestly say that after a rather testing year, despite the odd little hiccup over the past few days, I feel properly happy in this choir. Thank you to you all.
And so, all that is left is to say Au Revoir to Paris and to you all – that is to say, until we meet again. Love to you all, and thank you for being so wonderful.