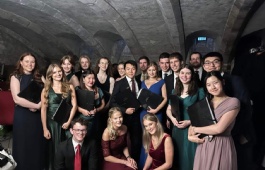 Third year choral scholar, Lucy Mitten, shares her start of term experiences.
It's so good to be back singing in the choir! After a long summer and a month or so of not singing, it was the best feeling. We had an amazing few days of choir camp filled with rehearsals, pizza, laser tag, bowling & a trip to London for a Sunday morning service at St Bartholomew the Great! It was also great to be back singing in smaller ensembles, which was topped off by a masterclass with Simon Whiteley (Queen's Six and alumnus of Royal Holloway).
In Welcome Week, we really bonded as a group and enjoyed our first midweek of the year, showcasing our small ensemble work! We also had our first evensong of the term, which was most memorable with the fire alarm going off halfway through (this does not usually happen!), followed by a lovely pub trip to round the week off. Overall, the week has been most wonderful. All the new scholars are lovely, and I can't wait to see what this year brings.