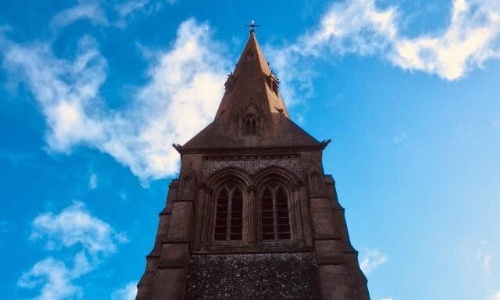 The start of the academic year is always a busy one, and this September was no different!
The term began with 'choir camp' which involved singing in beautiful venues such as Portsmouth Cathedral, Winchester College chapel and Romsey Abbey. An intense rehearsal schedule combined with living (and cooking) for each other for four days gave us the perfect opportunity to get to know one another. Highlights of the residential included a workshop with former King's Singer David Hurley, as well as exploring the beautiful town of Winchester. On Saturday evening, we also performed our ensemble pieces informally to the rest of the choir which gave us a chance to receive constructive criticism from our peers.
The first half of term has involved several successful Midweek Music concerts with an overarching theme of 'Cityscapes'; featured cities have included Gloucester, with the English premiere of a work by David Bednall, and Paris, in which we sang pieces by the likes of Debussy, Fauré and Poulenc. We have already performed two commissions this term: 'The Cry' by Adrian Snell and a commission from the Hellenic Institute (a research centre based in Royal Holloway's Department of History) entitled 'The Odyssey' by Lydia Kakabadse. We sang 'The Cry' with a children's choir and string orchestra at Windsor Parish Church and the latter was performed in the Royal Holloway Chapel to an appreciative audience which included the Ambassador of Greece. It has been really wonderful to be involved in such diverse musical activities, and I am thoroughly looking forward to lots more performances throughout the rest of term!
Image: the choir rehearse in the Church of Holy Trinity, Privett, next-door to our accommodation.
Maia Jarvis, 1st Year Soprano, Music & English Student