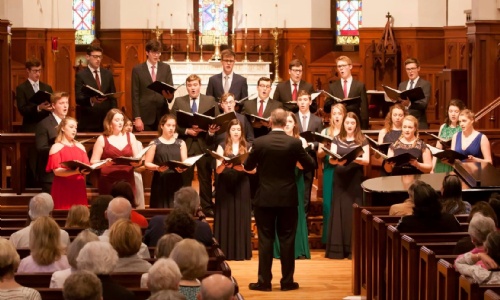 A look behind-the-scenes of our tour to North America by post-graduate Bass, Bradley Gill.
The Easter holidays were a busy time for the choir. With many of us working on essays, assignments and dissertations, we embarked on an exciting two-week tour of North America, with performances in western Canada and Texas. The 'around the world' themed programmes allowed us to present a broad variety of music which the choir enjoys and specialises in - including Tudor anthems, music from Estonia, Finland and Latvia, songs from our Ola Gjeilo CD, a mass setting by Castagnet, and contemporary works by Lauridsen which proved very popular with our American audiences.
Our first project was a memorable concert in conjunction with the University of Alberta Madrigal Singers in the crisp acoustics of Edmonton's Winspear Centre. We were delighted to rehearse and workshop some pieces with them before performing alongside them in such an inspiring space. We then flew to Vancouver, and following an afternoon of sightseeing on the ferry, prepared for our concerts at Christ Church Cathedral, Victoria and St. James Anglican Church in Vancouver. It was great to see the audiences' positive reactions to music which was new to them, as well as the more popular choral favourites by Brahms and Holst.
After repositioning to San Antonio, Texas, and adjusting from Canada's chilly -18 to nearly 30 degrees by enjoying a morning of sightseeing, we prepared for our concert in St. Mark's Episcopal Church - which was gloriously air-conditioned... The next day saw a transfer to Dallas, where we were invited to sing mass at the Church of the Incarnation before our afternoon concert. Both events were extremely well attended by supporters and well-wishers.
Our final stop was Houston, where we visited Rice University before our concert at St. Martha's Catholic Church. We were delighted to work with Texan composer Daniel Knaggs, performing his piece 'Ode to Saint Cecilia' as the finale of our concert, and the tour.
We thoroughly enjoyed our visits to Canada and Texas, made all the more memorable by our generous hosts at each venue and in each city. Many were congregation members and their friends/family who had taken the trouble to give us tours of the local area, recommend local attractions and provide authentic local food ranging from Canadian Poutine to real Tex-Mex barbeques!
Bradley Gill, Bass & Post-graduate Music Student
The choir rehearsing in the Winspear Centre, Edmonton, preparing for their first performance of the tour.