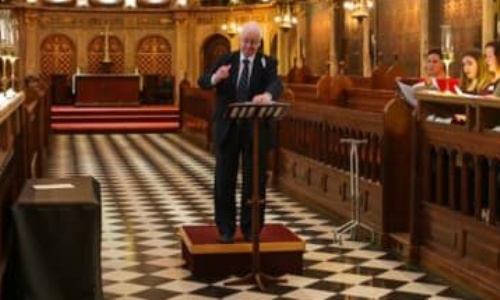 It was a delight to welcome back former members of the choir to celebrate our achievements, as well as to mark the 80th birthday of former director, Professor Lionel Pike.
On the weekend of his 80th birthday, past and present members of the chapel choir arrived in the pouring rain for a welcome reception in the picture gallery, allowing old friends to reunite, and celebrate with Professor Pike.
Old members of the university who spanned from the 70s to the present day filled the chapel stalls for a rehearsal, led by Prof. Pike and his successor, Rupert Gough, for evensong. Music included Bernard Rose's Responses, the canticles by Herbert Howells, written for King's College, Cambridge, and the anthem was a poly-choral motet by Peter Philips that Lionel had edited.
It was a fantastic opportunity to bring together new and old singers, who enjoyed learning what life was like and how it has changed today. The afternoon ended by a drinks reception in the picture gallery, where toasts were made, the current choir sang a piece written by Lionel, and cake was consumed.
We hope to hold alumni events every 2-3 years. Click here to find out more.