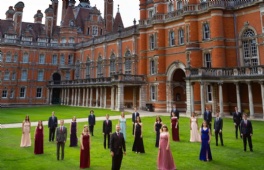 Applications for 2021 now OPEN
We are now accepting applications for Choral and Organ Scholars for 2021-22. Applications are welcome from new or existing students in all voice parts.
The Choir of Royal Holloway offers a choral experience like no other. The focus on secular as well as sacred repertoire in every style imaginable mean that graduates leave with a broad experience of music, yet have specialised in areas too. It is a hugely enriching scholarship that highlights and complements a degree, and creates long-lasting relationships.
To read more about a place in the choir, click here. To apply, follow this link.
If you have any questions about the application process, please contact us.