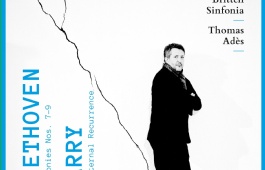 We're delighted to feature on a new release of Beethoven's Ninth Symphony with the Britten Sinfonia, directed by Thomas Adès.
Recorded live in concert in the Barbican, the Choir of Royal Holloway teamed up with Britten Sinfonia Voices, the Britten Sinfonia and Thomas Adès for a spell-binding performance of Beethoven's Ninth Symphony.
This is the final installment of the Beethoven Symphony cycle by Adès and the Britten Sinfonia, and has been paired with the music of Irish composer, Gerald Barry.