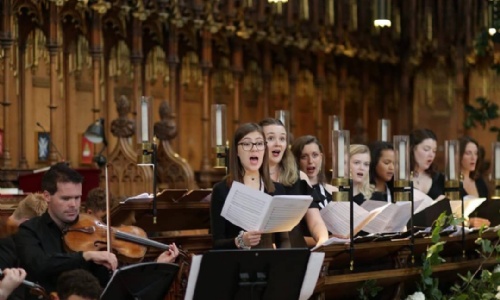 The choir sing for the wedding of Ellie Goulding and Caspar Jopling at York Minster.
Of the many 'gigs' that the choir has been asked to perform at over the years, our engagement in York at the end of the summer must rank as one of the most unusual and special. The pop singer Ellie Goulding is an avid listener of the choir's 'Winter Songs' disk, featuring the music of Ola Gjeilo, and she requested that the choir sing at her wedding to Caspar Jopling at York Minister. Having received this news months in advance, but knowing full well the importance of maintaining discretion, the choir had been quietly excited about playing our part in the celebrity wedding of the year for many months.

We arrived at York the day before the nuptials, rehearsing some of the music for the next day for the first time, such is the way so often in the professional choral world(!). After a good night's sleep, we arrived at the Minster suited and gowned to perform with the 12 Ensemble and Ola himself on the piano. The choir provided 20 or so minutes of music as the guests arrived, however it was rather tricky to maintain concentration with the likes of James Blunt, Katy Perry and the Duchess of York taking their seats as we sang.
It is of course the bride's prerogative to be fashionably late for the service, however with the service starting 25 minutes after the intended 3pm start time, the definition of the term 'fashionably' was stretched somewhat. No matter, the bride's entrance was a wonderful combination of audio and visual spectacle, the bridal procession processing under an arch of beautiful wild flowers whilst the choir sang 'The Ground', a very poignant setting of text from the mass with enough well - timed key changes to no doubt engage the tear ducts of many in the congregation (the Duchess of York was gracious enough to say how our singing moved her as she passed the choir stalls after the service). During the service, more music by Gjeilo and William Walton was used, along with rousing hymns that added to the sense of occasion. After the service, and before we all rushed to our various trains home, we got a chance to see the guests depart on various coaches to the reception from the song school window, which given the celebrity status of many on board was a surreal sight indeed. Although all too brief for much socialising time, this was an event that we will cherish the memory of for years to come, and was a lovely way to sign off the year.
- Ben Richards, Bass