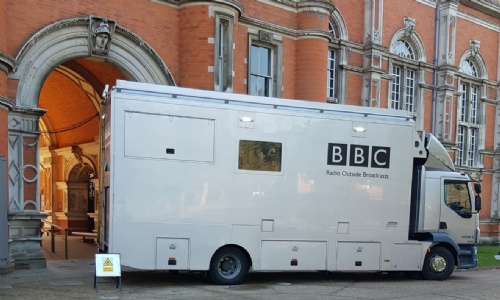 As part of BBC Radio 3's Choral Evensong series, the choir were delighted to perform live on radio in a programme of American music, whilst also celebrating the anniversary of Walford Davies.
This year's broadcast of Choral Evensong on BBC Radio 3 focussed heavily on works by contemporary American Composers, with some composers already familiar to the choir and others being new discoveries. The American slant on a distinctly English institution was the perfect platform to showcase Gerald Near's 'St Mark's Service' canticles, which are heavily inspired by Herbert Howells and include a direct quote from the Gloria of Howells' own Collegium Regale setting.
Broadcast day was an exciting one for all, and for many members of the choir this was their first broadcast on national radio. Our producer for the day, Stephen Shipley guided us through the pre-service rehearsal, even giving precise instruction for our tempo in the Apostles' Creed! The pressure of a live broadcast often yields the most vivid and exciting results from performers, and the choir truly gave their all for the whole service. We celebrated a job well done afterwards with a group trip for drink and food, admiring the setting sun on an uncharacteristically warm February evening.